DO IT ALL SNORKELING TRIP
Snorkel, Pizza & Sunset Cruise
Do It All Trip: Snorkel, Pizza & Sunset Cruise
Adult (Ages 13+): $99
Child (Ages 12 and under): $69
Plus $5.00 per person fuel surcharge
Join us aboard Reef Surfari for the Do It All Trip, where we head to two snorkel stops, eat fresh-baked pizza and enjoy an open bar sunset cruise all in one trip. From October to March, Reef Surfari will depart at 1:30 p.m from the dock at American Yacht Harbor in Red Hook on St Thomas and swing over to Cruz Bay to pick up our St. John guests at 2 p.m. From April to September, we will depart St. Thomas at 2 p.m. and St John at 2:30 p.m. We will then head to two snorkel locations in the Virgin Islands National Park around St. John to look for turtles, beautiful coral and a plethora of tropical fish. After snorkeling, we will pick up pizza, included in the cost of the trip, at Pizza Pi in Christmas Cove of Great St. James. The bar will be open with rum punch, painkillers, sodas and water for your refreshment. After pizza, we will cruise through the islands around St. Thomas and St. John while the captain tells stories about the islands, the mate tends the open bar and we watch the sunset. We will then return to St. John between 6:30-7 p.m. and then head back to St. Thomas between 7-7:30 p.m., depending on the time of sunset throughout the year.
Unfortunately, our fuel costs have doubled here in the USVI since last year. Rather than raising our trip prices permanently, we have chosen to add a fuel surcharge. Hopefully one day soon, fuel prices will drop, and we will be able to discontinue the fuel surcharge of $5 per person. Thank you for your understanding! We strive to provide the very best possible experience and value at Ocean Surfari.
Just like the servers and bartenders at restaurants, our boat crew is in the service industry and work hard to earn your gratuities.  A 20% gratuity will be added to any groups of 6 or larger on Reef Surfari trips.
Snorkel gear is provided and is cleaned and sanitized after every use. Full face masks are available for rental and new mouth pieces are available for purchase in our retail stores. Smoking is not allowed on all of our group Reef Surfari trips.
You can cancel up to 24 hours in advance of your trip for a full refund.
10% Deposit due on booking
Remaining balance will be charged 24 hours prior to your trip
You must cancel at least 24 hours before the trip start time
If you cancel less than 24 hours before the trip start time, the amount you paid will not be refunded.
Any changes made less than 24 hours before the trip start time will not be accepted
Cut-off times are based on the trip's local time
This experience requires good weather, if it's canceled due to poor weather, you will be offered a different date, refund or the amount you paid, or a full refund.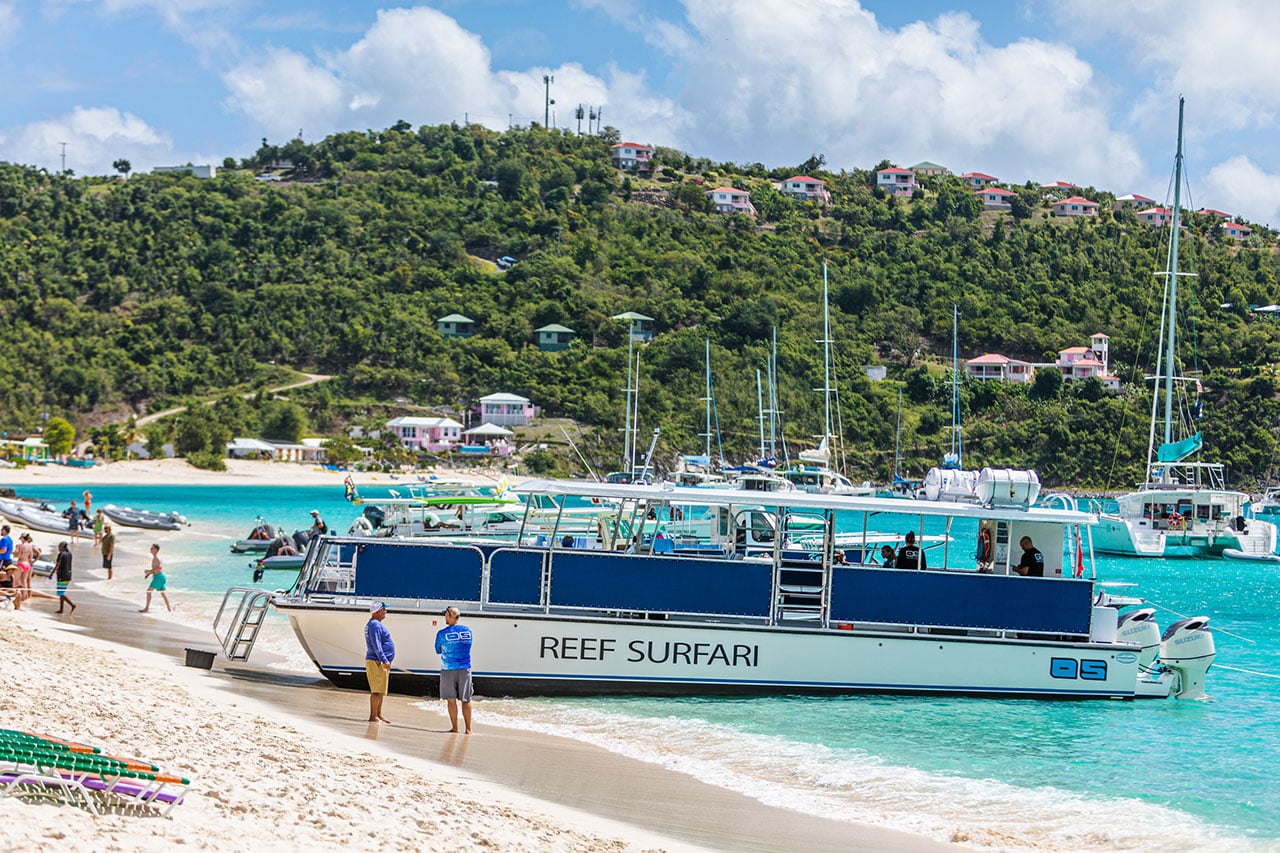 Your Getaway begins at Ocean Surfari in Red Hook where you can acquire any last-minute items like rash guards, sunglasses, swimsuits or sun block. Then our high-speed catamaran Reef Surfari will transport you to the islands' hottest spots for snorkeling. You will see some of the most beautiful reefs in the world, swim with colorful marine life like Turtles, Rays and abundant beautiful tropical fish.
Aboard Reef Surfari our guests can enjoy refreshing complimentary beverages (alcoholic beverages available after snorkeling) and relax in the sun on the front deck after snorkeling. This is a great way to end your unforgettable adventure with Ocean Surfari and the Reef Surfari snorkel boat.
FREQUENTLY ASKED QUESTIONS
A: The Reef Surfari can comfortably accommodate 49 adults. Call for a group rate for parties over six at (340) 227-5448
A: Yes. While snorkeling on the Reef Surfari is not recommended for very young children due to the nature of the event. Young people love to snorkel and are welcome as long as they are good to excellent swimmers. If you have a child under 2 in your party, you must call us direct and book over the phone.
A: Excursions begin at our Ocean Surfari store at 6300 Smith Bay Road, next to the Red Hook Ferry terminal. Come early and feed the Monster Tarpon from our dock!
A: $75 for adults; $45 for children under 12. Children under the age of 2 are free. If you have a child under 2 in your party, you must call us direct and book over the phone.
A: Yes, all Ocean Surfari boats are bathroom equipped. The Reef Surfari also serves complimentary beverages on board.
A: Yes! Reef Surfari picks up guests on the beach in front of the Ocean Surfari retail store in downtown Cruz Bay next to the ferry dock.