CRUISE SHIP PASSENGERS
CHOOSE YOUR ADVENTURE
Cruise Passengers! Spend 3.5 hours aboard the Reef Surfari for a memory that will last a lifetime. Spend part of your shore visit to St. Thomas by experiencing some of the finest snorkeling in the world! With convenient taxi service from the ship to our dock, you can even feed monster tarpon by hand right outside our door before heading out on your snorkel adventure.
Ocean Surfari offers both fishing and snorkel charters that will fit right into your schedule and budget. See below for more information.
OCEAN SURFARI
SNORKEL ADVENTURE
Leave from picture perfect Red Hook Harbor on St. Thomas and cruise to the USVI's best spots for snorkeling aboard the island's newest snorkel boat, Ocean Surfari's 47 foot Reef Surfari. Our new boat is fast, safe and provides the perfect transport to the area's clearest, most exciting waters for snorkeling. She is spacious and comfortable, with plenty of shade aboard.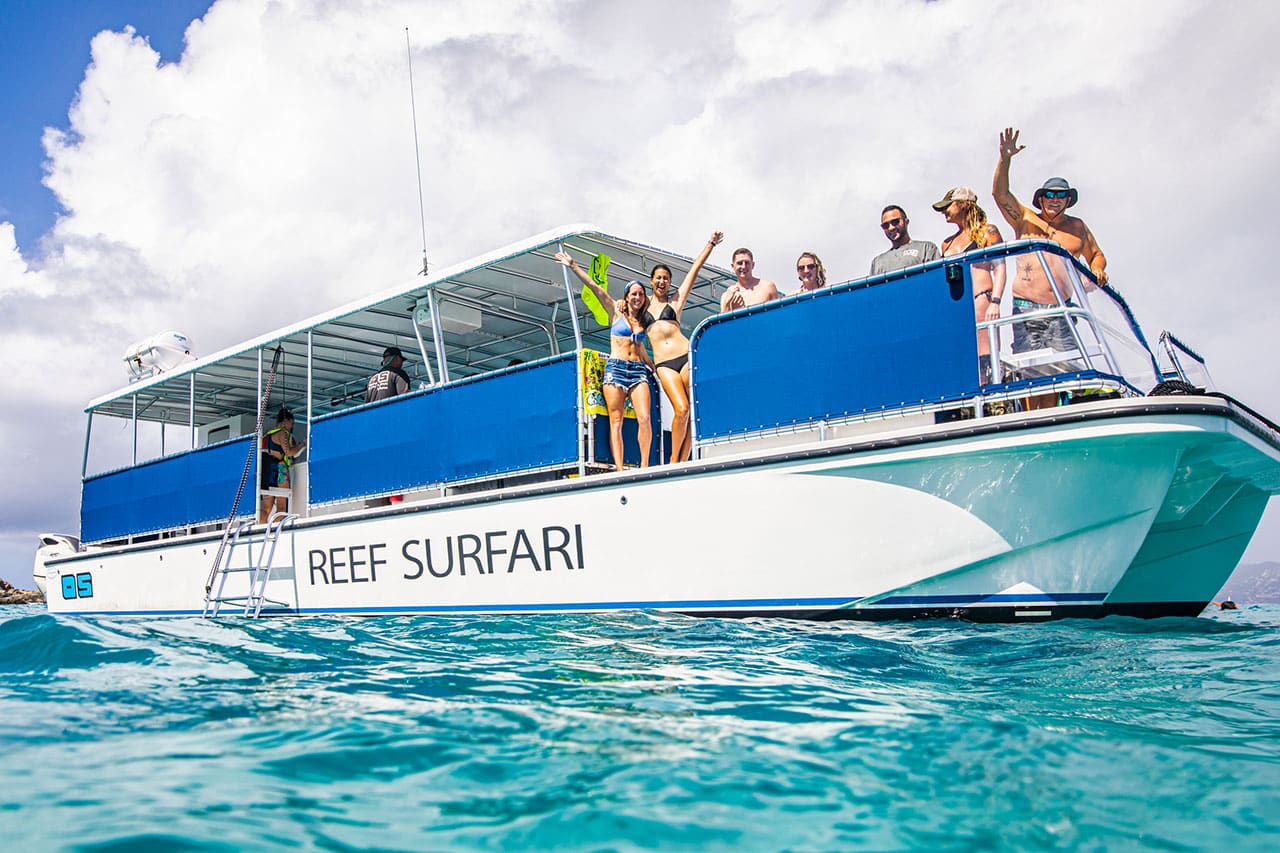 The Reef Surfari Power Catamaran has a refreshment bar stocked with beer, soda, water, rum punch, and painkillers for your post snorkel adventure. She comfortably holds 49 passengers and so is perfect for groups, or individuals wanting to find the best snorkeling in the USVI. A 3.5 hour excursion with our highly experienced Captains and Crew will get you over an hour and a half of facetime with the most beautiful tropical fish, breathtaking live coral reefs and an occasional peek into the Caribbean pirate history that is the USVI.
Transportation from the WICO Cruise ship dock
next to the Havensight Shopping Center
Please meet us at our retail store, Ocean Surfari, located in building 1, Suites K&L next to the US Post Office no later than 8:15am. Click below to view map of the cruise ship terminal and Havensight Shopping Center: 
Transportation from the Crown Bay Cruise ship dock
Please meet your Ocean Surfari Taxi at the large windmill at the shopping area by the parking lot no later than 8:15am. Click below to view a map of the cruise ship dock showing the windmill.
FISHING CHARTER PACKAGES & RATES
WET A LINE WITH US AND KEEP ALL THE FISH YOU WISH!
There are dozens of fishing charters throughout the U.S. and British Virgin Islands, but only ONE Ocean Surfari. Our exceptional experiences are the reason we are often booked solid, so plan ahead and call early. Our highly experienced captains and crew treat clients like friends … because you will be after your first outing with us. Once a customer, always a friend. We share stories and great fishing spots as if you were family. Just read our reviews and you'll see! Nobody leaves an Ocean Surfari charter unhappy. We love it here and we want you to feel the same way. See us in beautiful Red Hook Harbor, where we charter seven days a week for half and full-day excursions. Tuna, marlin, grouper, mahi. If it has fins, we can show you where and how to catch it.
CRUISE SHIP FISHING CHARTER RATES
Ocean Surfari Fishing Charters is dedicated to providing exceptional customer service to all of our guests, including our cruise ship visitors. While visiting St Thomas on a cruise ship, choose Ocean Surfari for your fishing adventure.
Ocean Surfari is located on the East end of St Thomas in a town called Red Hook at American Yacht Harbor Marina. We chose this marina due to the close proximity to the best fishing grounds, both north and south of the islands.
Our cruise ship guests take a taxi from the cruise ship port in Charlotte Amalie to our dock at American Yacht Harbor Marina in Red Hook. This allows more fishing time in more productive waters than vessels picking up near the cruise ship dock. We recommend East End Taxi (340) 775-6974
4 Hour Trips
$699
9am-1pm or 1pm-5pm
Allow 30 minutes for the taxi ride to and from the cruise ship dock.
Up to 6 Passengers max.
FREQUENTLY ASKED QUESTIONS
A: Several restaurants will cook your catch here on island. We will fillet whatever you would like to eat and you can have it prepared here on island.
A: We do not have any age restrictions for our guests. Children of any age are welcome but we do suggest inshore fishing for young kids as the seas are calmer and usually more action. In general 5 years and older do very well.
A: It is VERY rare that one of Ocean Surfari's boats completely strike out. I know of only two occasions in the last 8 years when this has happened and both trips were targeting blue marlin exclusively. As long as guests are willing to listen to our advise regarding best fishing options, we will make sure everyone catches at least one fish and usually much more.
A: 
mahi-mahi
tuna
wahoo
sailfish
marlin
king mackerel
snapper
grouper
jacks
sharks and many other species
A: We recommend that you bring:
Snacks and/or lunches
Polarized sunglasses
Hat or visor
Sunscreen