Reef Surfari Snorkel Excursion is presently practicing social distance recommendations as well as CDC guidelines for sterilization and disinfection. The boat is completely disinfected following each excursion and all equipment such as masks and snorkels are sterilized after each use. Clients may feel free to bring personal gear if desired, and new gear may be purchased at either of our retail location prior to departure.
OCEAN SURFARI NATIONAL PARKS SNORKELING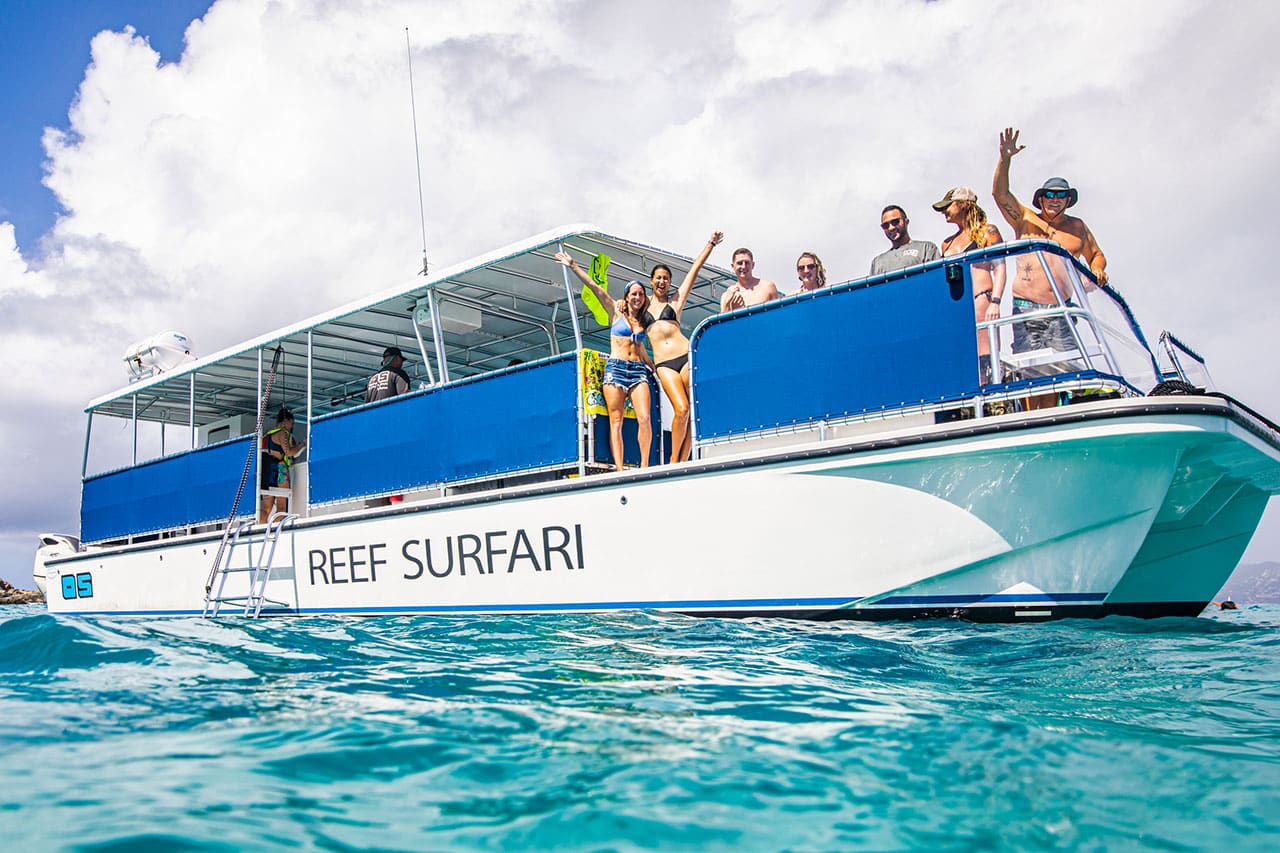 National Park Snorkeling Excursion – 2 Locations
Adult (Ages 13+): $75
Child (Ages 12 and under): $45
Leave from from picture perfect Red Hook Harbor on St. Thomas or the National Park Dock in Cruz Bay St John. Cruise to the St John National Park and USVI's best spots for snorkeling aboard the island's newest snorkel boat, Ocean Surfari's 47 foot 'Reef Surfari'. Over 40% of Virgin Islands National Park is underwater! The best way to enjoy this spectacular underwater National Park is by boat. Our new boat is fast, safe and provides the perfect transport to the area's clearest, most exciting waters for snorkeling. Spacious and comfortable, with plenty of shade aboard.
Do It All Trip: Snorkel, Pizza & Sunset Cruise
Adult (Ages 13+): $99
Child (Ages 12 and under): $69
Join us on Reef Surfari for the Do It All Trip. Snorkel, Pizza Dinner and Sunset Cruise all in one trip. Reef Surfari will depart at 2pm from our dock in Red Hook and swing over to St John and pick up St John guests at 215pm. We will then head to two snorkel locations in the St John National Park. After snorkeling, we will order Pizza, included in the cost of the trip, at Pizza PI or Ronnie's Pizza in Cruz Bay. We will have pizza and open bar at a beautiful anchorage. After Pizza, we will tour the islands around St Thomas and St John. Chris will tell the history of the islands and then watch the sunset. We will have an open bar and great music while watching the sunset. We will then return to the dock at 8pm.
If you are looking for a unique fun adventure while in the USVI this excursion is perfect for you.
Our famous turquoise blue water and white sand, and abundant sea life consistently rank St. Thomas as one of the "Worlds Best Places" to snorkel.
FREQUENTLY ASKED QUESTIONS
HOW LARGE A GROUP CAN I BRING SNORKELING?
A: The Reef Surfari can comfortably accommodate 49 adults. Call for a group rate for parties over six at (340) 227-5448
CAN I BRING CHILDREN SNORKELING?
A: Yes. While snorkeling on the Reef Surfari is not recommended for very young children due to the nature of the event. Young people love to snorkel and are welcome as long as they are good to excellent swimmers.
WHERE DO I GO TO BEGIN MY SNORKELING ADVENTURE?
A: Excursions begin at our Ocean Surfari store at 6300 Smith Bay Road, next to the Red Hook Ferry terminal. Come early and feed the Monster Tarpon from our dock!
WHAT DOES IT COST TO SNORKEL WITH OCEAN SURFARI?
A: $75 for adults, $45 for children under 12
IS THERE A BATHROOM ON THE BOAT?
A: Yes, all Ocean Surfari boats are bathroom equipped. The Reef Surfari also serves complimentary beverages on board.
CAN ST. JOHN VISITORS ENJOY REEF SURFARI SNORKELING?
A: Absolutely, the 8am Cruz Bay ferry to St. Thomas will bring you right to our docks in Red Hook (See map below). After a thrilling excursion, we will have you back for the 2pm ferry back to Saint John. This will have you on our island's turquoise blue waters for most of the day … what could be better?
WHERE TO FIND US
St. John visitors can take the 8am ferry from Cruz Bay docks directly to our St. Thomas Red Hook docks to enjoy a snorkeling excursion aboard Reef Surfari. We will have you back in time to catch the 2pm ferry back to St. John. When making your reservation with us, please let us know you will be coming from St. John.